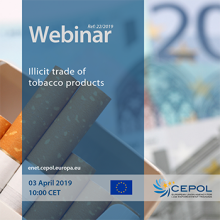 The overall objective of this online training event is to enhance knowledge on the investigation of tobacco fraud by sharing good enforcement practices in the fight against the illicit production and the contraband of cigarettes.
During the first two sessions of the webinar examples of national and cross-border cases will be shared by excise investigators from Germany and Spain discussing daily investigation steps in terms of illicit manufacturing, smuggling and illegal distribution of tobacco products. The focus will be paid on the intelligence collection and analysis process, cross border cooperation methods, preparation and conduct of raids, financial investigative and asset recovery steps and on the good practices of securing evidence. Criminal modus operandi concerning the functioning of illicit production sites and the smuggling and distribution networks will be also debated.
The surveillance capability of the Eurosur Fusion Services of Frontex will be explained during the third session of the webinar, detailing – through recent case examples - how this state of the art satellite-based technological solution can support maritime and land border excise operations.
#EUevents