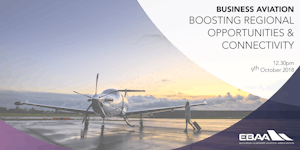 Join us for a unique opportunity to discover the positive impact of the Business Aviation industry on the European regional growth and development.
This lunch and panel debate, taking place during the European Week of Regions and Cities, will be a unique chance to discover how the Business Aviation industry positively impacts European regional growth and development.
The discussion will highlight the key role played by Business Aviation in connecting regions outside of the main transportation corridors in Europe, including in remote areas. Join us to know more about how the industry is directly contributing to economic growth and jobs at regional levels, as well as developing business opportunities throughout Europe. Speakers will touch upon topics related to connectivity and how it can be improved through technology solutions (e.g. EGNOS) and proportionate regulation of Business Aviation. Challenges will also be tackled: as the European airspace is becoming more and more crowded, how can we ensure that the industry can continue operating, providing its invaluable contribution to local communities and businesses in Europe?
Among the high-level panellists who will join us to share their exclusive insights:
Jacek Krawczyk, President of the Employers' Group, European Economic and Social Committee
Jyrki Paajanen, Policy Officer, Aviation Safety, DG MOVE
Léa Bodossian, Secretary General, Airport Regions Conference (ARC)
Stan Medved, Director Corporate Aviation, Shell Aircraft Limited
Frédéric Leboeuf, Director Operational Support Dassault Falcon
The programme of the event will be as follows:
12:30 – 13:15: Buffet networking lunch

13:15 – 13:20: Welcome from Athar Husain Khan, EBAA Secretary General

13:20 – 13:30: Introduction by Robert Baltus, EBAA Chief Operations Officer (moderator), and presentation of panellists

13:30 – 14:15: Opening remarks by each panellist

14:15 – 15:00: Debate on the topics highlighted during the opening remarks
#EUevents